Published on Give me Astoria
Rejuvenate Spa Returns Home to 23rd Avenue!
Rejuvenate Spa, Astoria's "petite retreat", is finally back at its new home at 29-10 23rd Avenue. Rejuvenate's approach is one of holistic skincare, educating customers on well being so that they are internally as refreshed as they will be externally post facial. Owner Evelyn Gatzonis offers everything from healthy eating habits and recipes, to makeup application tips.
Rejuvenate sets itself apart from the rest in that each experience is truly individualized. Consultations are provided so that everyone can choose a service that targets their needs specifically. Evelyn becomes more than just your aesthetician but a friend, one who knows you on a personal level. She is just as vested in the results as you are, and is committed to your progress every step of the way. Whether you are younger, suffering from acne prone skin, or more mature looking for something to target anti-aging, there are countless options available.
One service that stands out to me is the Purifying Facial, a combination of Evelyn's deep poor cleanse with new ultrasound, microcurrent, and LED technologies to calm the skin and kill bacteria, preventing future breakouts. It is then followed by a slew of serums for that glowing finale. Also be sure to check out the selection of all natural skincare and makeup products available for purchase. However rest assure, there won't be many imperfections to cover up for long.
Previous articleSay goodbye to Ricky's NYC on SteinwayNext articleAstoria: Everyone's Home Away from Home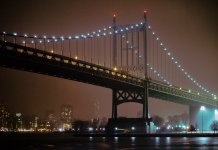 STAY CONNECTED
19,412FansLIKE5,385FollowersFOLLOW2,180FollowersFOLLOW